Mixing innovation into smart solutions that help companies grow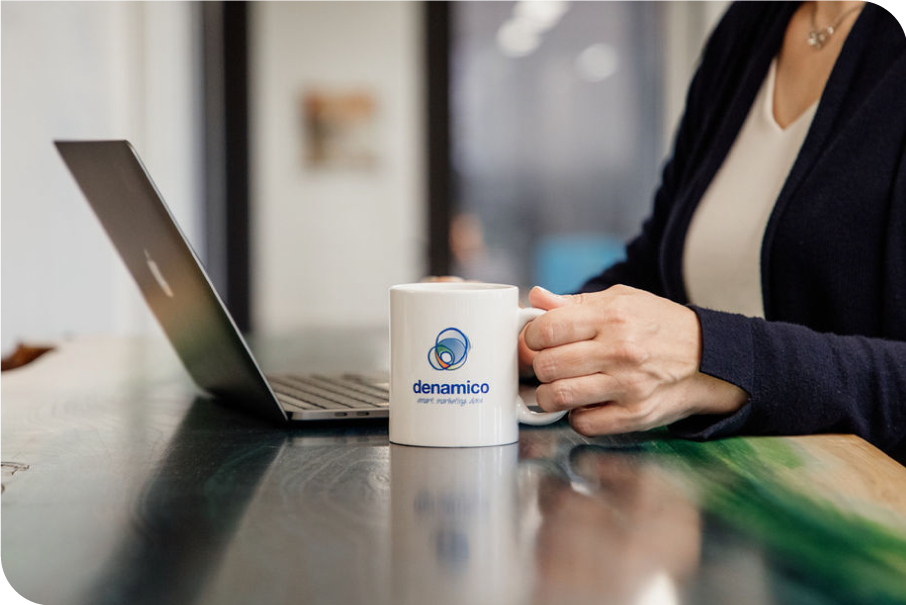 Denamico is seeking a Account Executive to expand our brand presence and create meaningful partnerships within our industry. Your role will be pivotal in acquiring new clients to meet monthly, quarterly and annual sales bookings goals and quota.
What Makes Denamico Different:
Our people are our special sauce. They care about our clients and do impactful work for organizations that are making a difference in the world. They love learning, applying new skills, continuously elevating their game, and holding themselves accountable to results. They're intrapreneurs, excited about innovating and running their own line of business.
We believe in taking care of our people. For us, this means training our managers, providing professional development opportunities, helping each other out with heavy loads, and taking time out as needed when the world and our lives get crazy. We encourage and enable people to restructure their role if life changes and they need a different schedule or level of responsibility.
You will be responsible for:
Hunter

Identify and qualify prospective clients; schedule and attend discovery meetings; prepare and present proposals; with the goal of securing new clients
Generate leads, as well as follow up on inbound leads received from our marketing efforts

Client Sales Management

Oversee sales efforts, ensuring achievement of sales bookings quotas
Identify trends and common questions from prospective clients, and work with the marketing team to ensure appropriate, relevant, and helpful content is available

Client Acquisition/ Engagement/Satisfaction

Develop and grow relationships with key decision-makers
Establish and maintain business development strategies that deliver new client sales and client satisfaction
Engage in understanding the clients' business needs to tailor solutions effectively.

Executive Account Management

Manage the entire client engagement to client satisfaction process while growing both new and existing clients revenues
Work closely with the client delivery team to continuously improve the client journey and experience with Denamico
Collaborate with Denamico's subject matter experts to develop their recommendations and proposed scope of work into proposals

Business Development

Meet and/or exceed individual sales goals through outbound and networking activities
Serve as a Brand Ambassador and represent Denamico
Contribute to marketing and promotion initiatives
Stay informed of marketing trends, competitors, and new products being introduced
Key Outcomes:

Achieve Monthly, Quarterly and Annual Sales Bookings Goals
Achieve sales bookings projections within 20% of monthly scorecard forecast
Qualifications, Education & Experience
Required Qualifications:
Alignment with

Denamico core values

: Make Things Happen, Learn with Purpose, Lead the Change, and Be Better Together
Experience in client-facing role with consultative selling in professional services and consulting in technology, digital marketing, or related field
Experience selling CRM, CMS, SaaS product and service solutions
Demonstrated track record as a sales closer
Experience working directly with client delivery teams
Ability to adapt quickly, thrive on fast-paced agility, and balance numerous responsibilities
Displays highly effective internal and external communication and presentation skills
Leads and drives change amongst leadership, peers, and stakeholders
Ability to work collaboratively with a leadership team to meet and exceed business goals
Preferred Qualifications & Experience:
Bachelor's degree or equivalent combination of education and experience required
Experience selling or consulting on software implementations, digital inbound/content strategy, and design of websites
Experience with digital projects but understands other mediums well enough to assist with writing scopes of work and estimates
Strong web and Mac desktop skills – we work on Macs and use HubSpot, Google Suite of tools, and various web-based tools such as ClickUp and Slack
Budget and resource management
Competencies:
Lead generation and acquisition

Executes on a system of activities to discover, engage with, and convert prospects to clients. Performs work with an intent to identify valuable contacts that will benefit from the services offered.

Professional Services Consulting

Professional Services consulting reveals a clear understanding of business processes, organizational change management, training and user adoption.

Technical Strategy & Solutioning

Technical strategy & proposed solutions achieve their intended results, brings forward recommendations on projects to achieve even greater results.

HubSpot Knowledge & Execution

Keeps current on new technologies as they relate to HubSpot & general CRM/marketing automation functionality. Provides future-focused consultation solutions in the sales process.

Problem Solving

Articulates the intended goals, identifies & sets clear objectives and requirements to achieve intended goals, and validates recommendations against success metrics.

Time Management

Demonstrates effective time management practices and ability to prioritize tasks and responsibilities toward goal achievement for self and team.

Interpersonal Communication

Displays exceptional interpersonal communication and writing skills, verbal and non-verbal communications, and the ability to communicate and persuade a diverse audience
Why You'll Love Working With Us:
Comprehensive Healthcare & Dental Plan
Competitive compensation and benefits package
Bonus and commission plans for everyone
401k
Unlimited PTO and paid holidays
Company paid parking or public transport allowance
Ergonomic office workstation with electric standing/sitting desk, etc
Kitchen with stocked drinks & snacks
Mentors - we believe in helping each member of our team grow personally and professionally
Location:
Minneapolis-St.Paul, MN. Denamico enjoys a hybrid work schedule option between your home and our Minneapolis North Loop office. We're normally in the office at least Tuesdays and Thursdays.
If you are interested in adding value to our team, please apply and we will be in touch.